Written by Darin Ford | 04 June 2012

Orlando Johnson
, is the the 29th best draft prospect in this years field. And of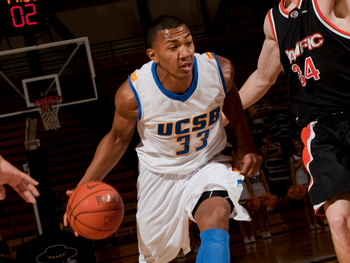 course ... who has that pick? We do.
The 6'5" high scoring guard averaged double-digits all four years of his college career. (A career that started at Loyola Marymount before transferring after his freshman year.)
Orlando is one of those prospects that is NBA ready. His size, strength, length and skill set will take him to places unknown. The kid can really ball and is a steal --
much like Tony Wroten Jr. is
-- at the No. 29 pick.
Orlando shot well over 45 percent from the field and 36 percent from three in his college days. However, Johnson did see some struggles from the charity stripe his senior year, only connecting on 4.1 out of every 5.9 free throws per game -- just 69.2%.
He's not quite Marcus Thornton but could see a career trend that's devilishly similar. Another case similar to his? Courtney Lee. (Which is probably the best comparison.) Both Lee and Johnson came from mid-major college programs that put the ball in his hands at all times. Lee, for those of you that remeber, was a rookie on the Orlando Magic when they reached the Eastern Conference Finals in '09. Johnson can be something similar to what Lee was to any playoff contender. Defensively he'll have to continue to develop, but offensively, Johnson is ready for the league.
UCSB was not only able to rely on Johnson to be a scorer but a rebounder as well, he grabbed a little under six boards a game.
Putting up the numbers that he put up, it's surprising that he never really got on the national radar. (Something that Courtney Lee, Steph Curry and Jimmer Fredette all got.) Maybe UCSB's struggle to outshine a much better Long Beach State team in their league, the Big West, hindered the team's ability to really reach that national stage.
In the NBA, Orlando Johnson could be 20 points plus a night guy, given he's in the right offense with the right coach. That's obviously not as a rookie. Probably not even before his third year. If he continues to work at it he could be a really nice player and tremendous pick-up for the Bulls.
<![if gt IE 6]><![endif]>